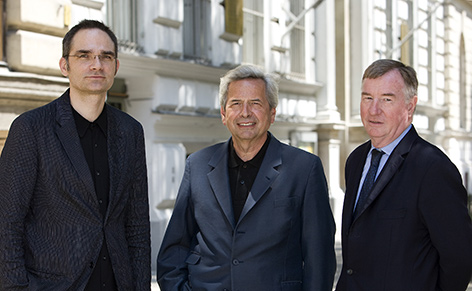 left to right: Sascha Bradic, Manfred Nehrer, Herbert Pohl
Architecture
NMPB Architects' work is characterized by a constant interaction between professional practice, research and teaching. The diversity of planning tasks results in a high degree of flexibility, efficiency and communication skills of our team when dealing with new tasks as well as a great deal of experience in working with public and institutional clients.
The projects have a strong relationship to the location and its environment, are developed from the situation and the program. This guarantees differentiated solutions, individuality and distinctiveness. Existing and new things complement each other and lead to an exciting overall result.
NMPB Architects look for solutions that take into account the urban planning references and urban development concepts. The essence of each project is an individual and appropriate concept, the implementation of which is followed in detail. The solution to a construction task is never a question of style, but always an expression of an attitude and an architectural philosophy.
The correct use of materials, innovative constructions and economical use of resources is a determining factor in our architecture.